SOLO COMPOSITIONS
Trouble in Aberdeen ©2009, unaccompanied snare drum solo
USS Becuna ©2009, unaccompanied timpani solo
Coulrophobic Etude ©2009, unaccompanied mallet solo
Performance History: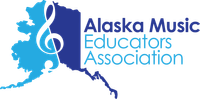 Alaska All-State Percussion Auditions

NAfME All-National Honor Ensembles Percussion Auditions

Pennsylvania Region and All-State Auditions
ORCHESTRAL COMPOSITIONS
Kākū, kūpala | Fear in Neutral Buoyancy ©2015
Sean J. Kennedy (b. 1971)
---
Sean's premier at the world famous Carnegie Hall:
---
Performance Hist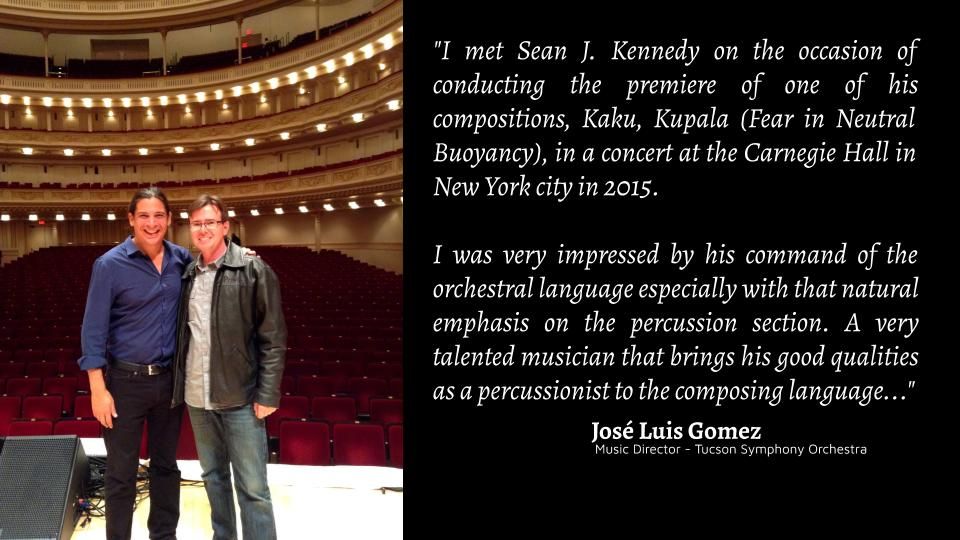 September 27, 2015*
Location: Carnegie Hall,  Stern Auditorium / Perelman Stage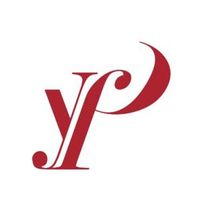 Ensemble: The Youth Philharmonic International Orchestra, conducted by José Luis Gómez  
*World premiere
---
June 22, 2016
Audio recording released by Kanca Media.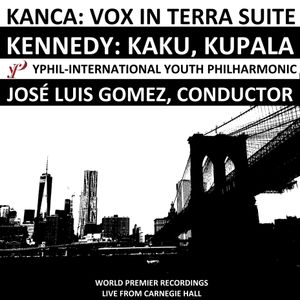 (FYC) GRAMMY ballot nominee 2016
 Best Classical Contemporary Composition
 Best Orchestral Performance
---
December 6, 2016
Location: Iglesia de San Pedro, Montes de Oca. San José, Costa Rica

Ensemble: Orquesta Sinfonica Intermedia de la Universidad de Costa Rica, conducted by Elvis Josue Bendaña Rivas
---
July 22, 2017
Location: Corning, New York, Corning Museum of Glass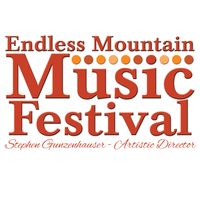 Ensemble: Endless Mountain Music Festival Orchestra, conducted by Steven Gunzenhauser
---
LUX CONTRITUM (Broken Light) ©2017
Commissioned by Sister Lauretta Linsalata, Gary Zimmaro and Ed Stimson
For the 2018 All Catholic Festival Chorus and Orchestra
To premier on April 17, 2018 Verizon Hall, The Kimmel Center, Philadelphia, Pennsylvania
---
Program Notes:
 
Kākū, kūpala | Fear in Neutral Buoyancy (2015)
Sean J. Kennedy (b. 1971)
 
The American drum set player, percussionist, recording artist, author, and educator Sean J. Kennedy was born in Philadelphia. He is a multi-faceted musician who is equally accomplished on the stage, in the recording studio, and in the classroom. He has performed on drumset and percussion with Il Volo (an Italian operatic pop trio), the Strauss Symphony of America, the Philly POPS! Orchestra, the Allentown Band, and the Symphony Orchestras of Allentown, Atlanta, Jacksonville, and Lancaster. He is principal drumset player with the Cape May Pops and the Philadelphia Boys Choir & Chorale.
He has written numerous drumset, percussion and improvisation books. His drumset method book "Camp Jam: Rock Solid Drums" was nominated as Educational Drum Book of the Year in the 2011 "Modern Drummer Magazine" reader's poll. Jazz legend Dave Brubeck stated that Sean's drumming "… sounds like it should—it swings!"
Kākū, kūpala is the Hawaiian translation for large barracuda. The work was inspired by Kennedy's brief but frightening encounter in August, 2001 with a four-foot barracuda while he was on a sightseeing trip to Maui to observe the great sea turtles. Barracudas are notorious for their fearsome appearance and ferocious behavior. Kennedy was looking at the turtles when he suddenly noticed the barracuda about two yards away. The ominous fish, using its innate ability to maintain buoyancy, remained motionless and stared at him. The terrified Kennedy called to a nearby friend and then looked back to see if the barracuda were still there, but it had vanished.
The composer indicated that Kākū, kūpala features percussion, is scored for full orchestra, and lies somewhere between jazz, rock, and classical music. It paints a sound picture by using specific rhythms and pitches combined with moments of free improvisation. The three percussionists symbolize his emotions before, during, and after his encounter with the barracuda. They add critical elements of danger and surprise to make the piece come alive for both performers and audience by switching frequently between specific rhythms notated on the score and moments of free improvisation.
The Youth Philharmonic International Orchestra, conducted by José Luis Gómez, premièred Kākū, kūpala at Carnegie Hall on September 27, 2015.
Ted Wilks
---
LUX CONTRITUM | Broken Light 2017
A composition for Full Orchestra and Chorus
Sean J. Kennedy (b. 1971)
 
Throughout my career as a musician I have been privileged to perform and visit many churches in Europe and North America. Most of these beautiful buildings include elaborate stained glass windows. The history of stained glass windows is rooted in the wide spread illiteracy of congregations hundreds of years ago. They were created to convey a message quickly and easily. Stories of faith and lessons were the predominant theme of the windows. Some of the oldest windows have been found in archeological digs in Italy dating back to 800 AD. When basking in the glow of one of these windows a sense of calm is almost always experienced by the visitor. I have always been amazed that a beam of light, individual pieces of iron and broken glass can blend together and create a beautiful, singular, otherworldly, sense of calm and awe, much like a piece of music. Both invite the audience to have their own deeply personal experiences. Being tasked to compose this important piece of music for such a wide range of ages, abilities, instruments and voices, was daunting, to say the least. For a few weeks I sketched ideas down and recorded motifs, with nothing too inspiring, until I remembered a particularly beautiful stained glass window that I saw in Florence, Italy at The Cathedral of Santa Maria del Fiore. Standing in the sun's warm glow as it reached through the colored glass adorning the window, I was overcome with a sense of warmth and serenity, created by those tiny, individual pieces of broken glass. The experience was overwhelming and unforgettable. At this time in history we all see lots of pieces of broken glass (sadness, tyranny, violence, etc…). We see these pieces in the news, in our neighborhoods, in our school and sometimes sadly, in our homes. However, if we all take ownership in trying to make the world a more peaceful and joyous place everyday, with just one small gesture, we, like a stained glass window can turn thousands of pieces of broken glass into one beautiful illumination of peace and love.
SMALL GROUP JAZZ COMPOSITIONS
Coming soon...
ETUDES AND SOLOS FOR EDUCATIONAL PURPOSES
Coming soon...